UFC Star, Karate Champion Opens Academy in South Bay
April 2017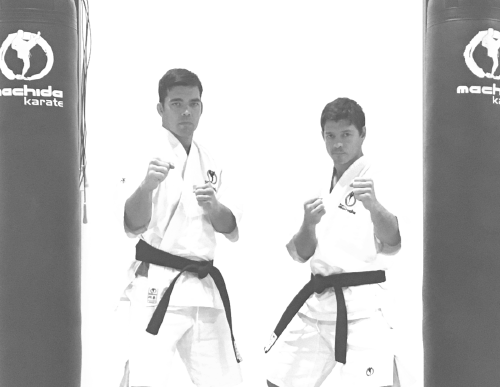 Growing up in Brazil, the son of a renowned karate master, Riviera resident Lyoto Machida was destined to become a karate champion himself. And that is exactly what he did. A professional mixed martial arts fighter, Lyoto is a superstar of the UFC (United Fighting Championship).

Known as "the dragon," Lyoto is the 1st UFC fighter to win a perfect record and is noted for his semi-orthodox fighting style, known as Machida Karate. This style of karate places its emphasis on self-defense while improving fitness and developing fighting skills.
Lyoto learned the art of karate starting at the age of three under the tutelage of his father, and earned his black belt at the age of 13. He began training in sumo at the age of eight and Brazilian jiu-jitsu and boxing at sixteen. Lyoto's father, Yoshizo Machida, is a world-renowned Japanese-born Shotokan Karate sensei, who taught all three of his sons the art of karate when they were very young. He has two karate schools in Brazil where he has taught hundreds of students.
Now, Lyoto and his brother, Chinzo, who is also an acclaimed karate competitor, have opened a Machida Karate Academy right here in the South Bay. The Academy offers a variety of classes for all ages and skill levels.
"Machida Karate teaches the disciplines of respect and confidence, skills that are useful in every area of life," said Lyoto. "The underlying philosophy in our style of teaching is to improve your body and mind while learning self-defense. It's easy to learn and applicable in realistic situations."
Classes offered at the Academy include the Machida Little Dragon Program for ages four to six, the Youth Samurai Program for ages seven to 14, a Fundamental Program for teen and adult students new to karate, and an Advanced Program for more experienced students.
Lyoto, his wife, Fabyola, and their two young sons moved to the Hollywood Rivera from Brazil five years ago.
"We love living here," said Lyoto. "It's such a nice neighborhood where we know each other but there's also privacy and peace and quiet."
To sign up for classes or learn more about the Machida Karate Academy, go to www.machidakarate.com or call 424- 347-7255. The Academy is located at 24333 Narbonne Avenue in Lomita.
Click Here to read Igor's full Newsletter on Scribd.com – http://www.scribd.com/LiveInHollywdRiviera
---
Community Event Saves Lives
March 2017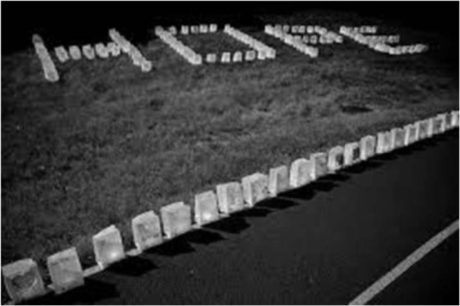 It's that time of year again – time to lace up your athletic shoes and get ready to join in the fight against cancer. In 2017 there will be an estimated 1,688,780 new cancer cases diagnosed and 600,920 cancer deaths in the US according to the American Cancer Society.

Which is why it's more important than ever for communities to come together for The American Cancer Society's Relay For Life. Help the Hollywood Riviera and its surrounding neighborhoods save lives by joining forces the weekend of April 22-23 for the annual Torrance Relay for Life at South High School. This year's theme is Carnival For A Cure.
Relay for Life is the world's largest grassroots fundraising event, with participants and volunteers in more than 5,200 communities and 20 countries. The event raises funds for the American Cancer Society with the help of teams of volunteers who commit to having at least one team member walking on a track at all times over a 24 hour period because cancer never sleeps.
Relay For Life honors cancer survivors, pays tribute to those who have lost their lives to the disease, and raises money to fight cancer. With the support of thousands of volunteers, Relay for Live fundraisers assist the American Cancer Society in saving more than 500 lives a day This year's Torrance Relay for Life goal is to raise $220,000 for the American Cancer Society. The Hollywood Riviera Sportsman's Club continues its tradition of fielding a team, with Igor Nastaskin serving as team captain for the 12th consecutive year. Please consider joining the Riviera Sportsman's Club's Relay team if you'd like to get involved (women and men are welcome). The team raised more than $12,000 for the American Cancer Society last year, and hopes to exceed that amount this year.
Relay for Life began in 1985 with the vision of Dr. Gordy Klatt, a colorectal surgeon in Tacoma, Washington. In an effort to raise funds for his local American Cancer Society, Dr Klatt spent a grueling 24 hours circling the track at the University of Puget Sound, logging in more than 83 miles. Nearly 300 of Dr. Klatt's friends, family and patients cheered him on as he walked, while others donated $25 to walk 30 minutes with him. Ultimately, he raised $27,000 to fight cancer.
The following year, Dr Klatt organized 19 teams to take part in the first team relay event, and a total of $33,000 was raised for the American Cancer Society. Today, Dr. Klatt's vision is a fundraising phenomenon.
Highlights of the Relay for Life are the opening ceremony Saturday, April 22 at 9 am followed by a survivors' lap at 9:30 am. At 8 pm Saturday, a Luminaria Ceremony will honor survivors as well as those who lost their battle with cancer. The luminarias burn through the night to light the path for those walking to fight back against cancer. You can purchase and decorate your luminaria at the event on Saturday.
Entertainment is provided throughout the event, which concludes Sunday at 9:00 am with a closing ceremony.
To sign up for the Hollywood Riviera Sportsman's Club team, or to donate funds to the American Cancer Society for the fundraiser, please contact Igor at 310-892-6016 or  inastaskin2@socal.rr.com.
Donations are accepted until August 31, 2017.  Your gift is tax deductible as a charitable contribution to the fullest extent allowed by law.
For more information about the American Cancer Society's support for survivors and patients, please call them 24/7 at 800-227-2345 or visit cancer.org.  We hope to see you at South High the weekend of April 22-23 as we pull together as a community to fight back against cancer.
Click Here to read Igor's full Newsletter on Scribd.com – http://www.scribd.com/LiveInHollywdRiviera
---
Riviera Teen 
Excels in Autocross
February 2017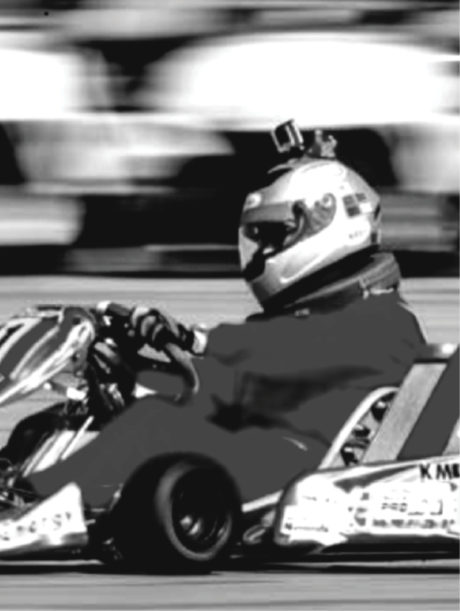 The family that races together stays together. That could be the motto or the Christopher family, Riviera residents for the past 11 years.
Kencey Christopher, who is 17, has been autocross racing since the age of 9. Her dad, KJ, has raced most ofhis life. And her mom, Stacey, used to race herself.
Kencey started her racing career in junior karts, as do all those who pursue this sport from ages 5 to 16. As a member of the Sports Car Club of America, once a month or so she and her family make the trek to the Auto Club Speedway in Fontana. Once there they enjoy socializing with the many other families they've gotten to know over the years who also are passionate about autocross.
Kencey puts on her helmet, buckles herself into the car she and her dad carefully crafted and maintain, and then she's off for a 60-80 second race where agility counts more than speed.
Plenty of safety precautions are in place for everyone involved,including helmet requirements and staggered starts.
When Kencey is not racing, sheen joys drawing and sewing. A recent homeschool graduate, she hopes to parlay those skills into a career in costume design.
But nothing will keep Kencey from her cars. She's an avid fan ofFormula 1 races and plans to be an autocross racer herself the rest of her life. You go girl! We're cheering you on.
Click Here to read Igor's full Newsletter on Scribd.com –http://www.scribd.com/LiveInHollywdRiviera
---
Resident Finds Perfect Harmony in Local Chorus
December 2016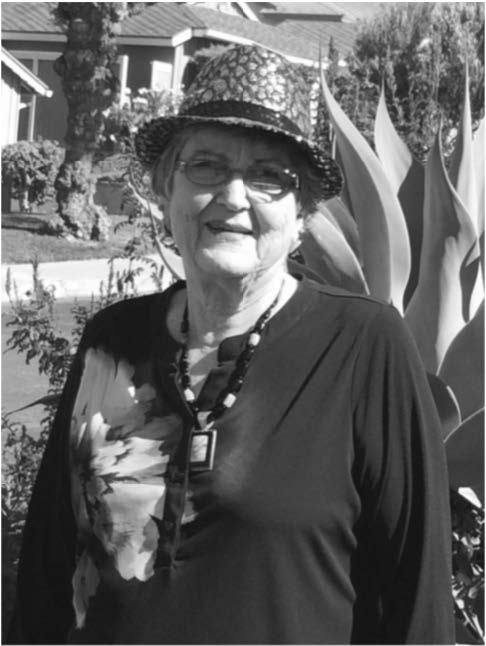 Sometimes when we meet up with the month's newsletter raffle winner to present their gift certificate and take their photo, we realize what a great story they have to share with our community. Such was the case with last November's winner, Konnie Kenny, who let us know about a show  performed that month by the L.A. South Towns  Chorus at the James Armstrong Theater.
It turns out that Konnie has been singing with the L.A. South Towns Chorus for 13 years, and has performed in several of their shows. The L.A. South Towns Chorus was founded nearly 60 years ago by a group of women who loved to sing. Some of those original founders are still in the chorus. The group consists of over 60 women ranging in age from their 20s to the 90s, and from all walks of life. They meet locally every Monday to practice harmonizing in the a cappella style, produce their own annual shows and also enter in various competitions.
"I love being part of the South Towns Chorus," said Konnie, who is 82 years young. "I have to memorize the music and it keeps my brain going. Plus it's such a fun group of women to sing and socialize with every week."
A singer most of her life, Konnie started in church choirs and then was introduced to barbership-style singing, joining the Treble Makers in 1980. She sang with them until they disbanded in 2003, and then became a member of the L.A. South Towns. She is also a big sports fan, and her two side-by-side televisions are frequently simultaneously running different sporting events (typically tennis, basketball or soccer). She was a passionate tennis player for 50 years until her knees forced her to stop recently. She also practices yoga. And you'll probably never see Konnie without a hat on – she owns more than 40 of them and they certainly suit her. Before retiring, she was a secretary for 17 years at South Bay Engineering Corporation in Malaga Cove.
Konnie and her husband bought their home in the Hollywood Riviera 50 years ago and raised three children here.
"This is a great community to raise kids," says Konnie. "I have great neighbors and lots of activities I enjoy. I'll never leave." To learn more about the L.A. South Towns Show Chorus, including how to join, go to www.lasouthtowns.org.
Click Here to read Igor's full Newsletter on Scribd.com –http://www.scribd.com/LiveInHollywdRiviera
---
Hollywood Riviera's Celebrity — Rosemary DeCamp
October 2016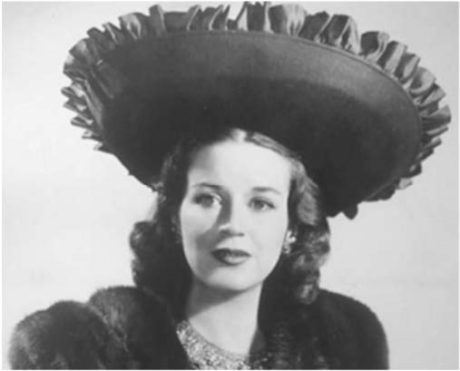 One of the most famous residents of the Hollywood Riviera is, no doubt, actress Rosemary DeCamp who lived here for almost 60 years, until her death in 2001. Rosemary and her husband, Judge John Shidler, purchased a Hollywood Riviera house on Camino de las Colinas in 1945  (when there were only three houses on the block) for the price of $22,500. Here they raised their four daughters: Margaret, Martha, Valerie and Nita.
Rosemary was a well-respected actress who, while very pretty, often played matronly roles such as being the mother in Yankee Doodle Dandy and Jungle Book. Later she was also involved in television, including The Bob Cummings Show, Life of Riley and others. While she was not the typical flamboyant Hollywood type, Rosemary was known to drive around in her beloved white Rolls Royce Silver Cloud nicknamed Snowball.
Mid career Rosemary married a local boy, John Ashton Shidler, a Stanford Law School grad who later became a Torrance Superior Court Judge. After marrying, the newlyweds lived in Beverly Hills where John might have gotten tired of being called Mr. DeCamp a few too many times. John wanted "down-home living" for his family.
The Shidler family was active in the community. Rosemary was also an artist and supported community cultural groups. She conducted a playwriting contest at Torrance High School for many years. Judge Shidler was a prominent community member who also served on the Torrance School Board and was instrumental in helping protect Torrance Beach from high rise developments.
Rosemary died here at age 90. John predeceased her death by a few years (in 1997). The couple was among the longest lived Riviera residents. The "down-home living" of Hollywood Riviera suited Rosemary and their daughters well. The girls said they never saw their parents fight and they had a wonderful life growing up here. While well aware that their mother was a celebrity, none of them ever let fame go to their heads.
With community support, the Friends of the Hollywood Riviera plan for this identifying marker to be placed at the corner of Via Monte d'Oro and Palos Verdes Blvd., which was the original entrance to our beautiful historic neighborhood in 1928.
The marker will be 14 feet long and 5 feet high and is designed in the Mission style with period font. The back of the marker will be inset with custom period tile detailing a brief history of the Hollywood Riviera. To see maps and photos, go to the Riviera Homeowners Association website and click on Hollywood Riviera Marker Project: hollywoodriviera.org/marker.
Now you have the opportunity to support this exciting project. You may contribute via GoFundMe or by check to: Friends of the Hollywood Riviera, c/o Dina Wiley, 202 Via la Soledad, Redondo Beach, CA 90277.
Thank you to Edie Dees, Dina Wiley, Karen Lent and Janet Hart for the above stories.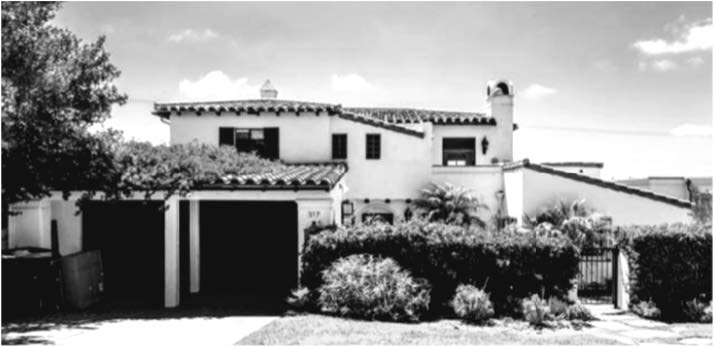 DeCamp-Shidler House on Camino de las Colinas
Much of the information in this article is from Rosemary's autobiography: "Tiger in My Lap." The DeCamp-Shidler daughters still live in Southern California.  Three local history buffs, Edie Dees, Dina Wiley and Karen Lent spent time talking with Rosemary's oldest daughter, Margaret. They have been collecting information for a book they are writing on the Hollywood Riviera's history. Please contact one of them should you have historical information or photos. Old Hollywood Riviera Research Group/September 2016  
---
Hollywood Riviera Residents Love this Park to the Moon and Back
September 2016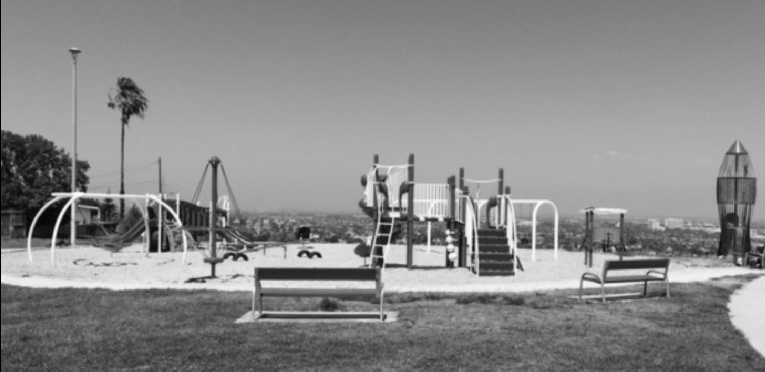 While there are many wonderful parks in Torrance, only one has panoramic views from the ocean to the mountains – plus its own rocketship.
Los Arboles "Rocketship" Park is a Hollywood Riviera jewel loved by young and old alike for more than fifty years. Located on 6.3 acres at 5101 Calle de Ricardo (donated by developer H. Kessel), groundbreaking on the park took place in 1960 and the park opened four years later.
Rocketship Park was built shortly after the Soviet Sputnik satellite was launched and spacecraft was on the minds of Americans nationwide, especially in the aerospace-heavy South Bay. With the post-World War II baby boom on, city organizers were creating parks throughout the area. With Riviera Elementary situated adjacent to the park, children and parents were delighted with the new addition to the community. The Riviera Garden Club quickly donated its services to maintain and improve the park.
In addition to its 28-foot high rocketship, which was purchased from a catalog of playground equipment, the original park included a space slide, a model of Saturn, miniature jet planes, a submarine, and later an orbiter and lunar lander.
The beloved rocketship almost came to a crashing end in 1992 when the city of Torrance deemed it a safety concern and took it down. After a community outcry, the rocketship was refurbished and reinstalled a few months later. More modern equipment was also installed at the time, and a historical landmark plaque was placed on one of the rocket's fins.
Rocketship Park was updated this summer with new play areas for ages 2 to 5 years and 5 to 12 years. The updated park includes lunar monkey bars, swings, climbing pieces and a teeter totter. And of course, the rocketship and moon lander. The park also includes a picnic area and has handicap access.
Take a trip up the four-level spaceship and enjoy views spanning from the Getty Center to the Hollywood sign to Griffith Park Observatory. You'll be experiencing just one of the many things that make our community so special.
Click Here to read Igor's full Newsletter on Scribd.com –http://www.scribd.com/LiveInHollywdRiviera